We here in Minnesota have been having a tough spring this year. In the past 3-4 weeks, there have been TWO sunny days, just enough to keep us optimistic about the chances for tomorrow, ya know?
Today we had a series of fast-moving thunder-and-lightening storms with intermittent sunshine. What a TEASE.
Here's the sky about 10 minutes ago from my back yard.
The perfect backdrop for a rainbow, right?
Oh, well. I'll wait another 10 minutes.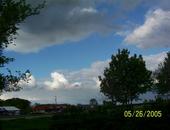 See?!??