Think it needed it?
BTW, here's my front door...
Any suggestions for a color to paint it?
It's a very faded green screen door with a cream colored inside door right now.
(Just think--once they're painted, the finished doors would no doubt appear HERE!...I can't help it!)
So, you want to see a longer view, huh? This is as good as my yard ever gets...lol...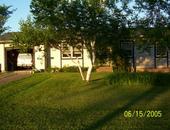 Me waving "Hi!"
I told you I was statuesque...lol