The bush-like thing I was talking about last week. Still don't know what it is, other than pretty...lol
Click the picture...there's something hidden in the ferns.
Click this one too.
A bumble bee kept crawling into the iris blossoms--all the way in, til all I could see was a tiny yellow "moon", and then he's ZIP over to the next one. This is the only picture of about 10 I took where you can actually SEE him! lol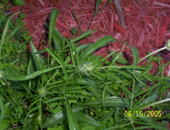 Scabiosa buds...and isn't that an awful name for something so delicate? I'll show 'em again in a week or two, when they flower.
It's tough taking a picture of the back of your own head! (I needed to whine
a little
about mowing, ok?)
LOL