Remember the slow-growing amaryllis I showed you a few weeks ago?
Well, it finally bloomed this week.
(I would have posted a picture yesterday, but you were already having more fun than was good for you with the pictures I DID post).
OK...it's a a pure white amaryllis: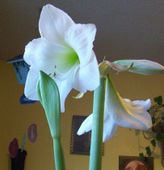 Yes, I know it looks like a shy person covering her mouth. Or, a bored person yawning.
Ha! You be the judge.