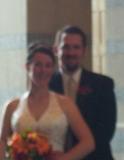 Yes, it's out of focus (I didn't wait for the camera to do it's thing), but it's the only one I took that shows S&E with the flowers...lol
E thought they were "just perfect, Mom!"--a nice summery look--with green dendrobiums and kermits with orange lillys, gerbs, roses and alstro and red velvet merlot roses and hypericum berries.
The centerpieces were loose arrangements in medium "milk jug" vases, with bear grass and curly willow.
Oh, man, it was a truly delightful, enchanted wedding! My jaw hurt from so much talking and smiling (who, me?), and my corsage was flat from all those wonderful hugs...it was a joy.
Here are two shots of the tables looking down from the third floor.
The Minnesota History Center is a gorgeous venue for a wedding. The ceremony is held on the third floor, then dinner on the second.
While we were eating and toasting, the chairs upstairs were replaced with a wooden dance floor.
By then, it was dark outside, and the State Capital in all it's flood-lit glory stood at the end of the hall: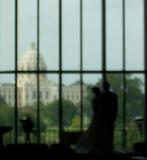 These were taken in the afternoon during practice--one so you can see the Capitol, and the other taken from farther back, with more glare...lol
I'm so proud and so happy tonight. This summer has been wonderful...I've gained a terrific son-in-law, a delightful daughter-in-law AND their families.
The weddings are over and tomorrow the high should be 79.
Life IS good!